If you're looking for beadboard ceiling ideas, then good news…we've got plenty! We're always on the lookout for new ways to revamp our interiors and paneled ceilings are the latest trend we can't get enough of. Plus, after talking to the experts, we found out that it's actually easier than it looks and can also be quite affordable.
Beadboard is a wood panel with long continuous vertical grooves and raised beads that create the illusion of multiple wood panels. What makes paneled ceilings so popular is the fact that they are easier and cheaper to install than they look. So if you want some expert advice, as well as some pretty ceiling ideas using bead panels, keep reading.
Can paneling be used for ceilings?
Not only can beadboard be used for ceilings, but it's actually a very popular and beautiful use of this material. Taking up most of the surface of any room, your ceilings should never be overlooked and, fortunately, since the wainscoting panel is lightweight, it's not difficult to fit overhead.
Paneled ceilings look polished and professional, lending an air of nautical chic to any style of home. For this reason, it's no surprise that this trend has taken the internet by storm. From Instagram and Pinterest to TikTok, homeowners are obsessed with the #accentceiling aesthetic and beadboard ceilings are among the most popular.
1. Add some nautical charm to the kids' room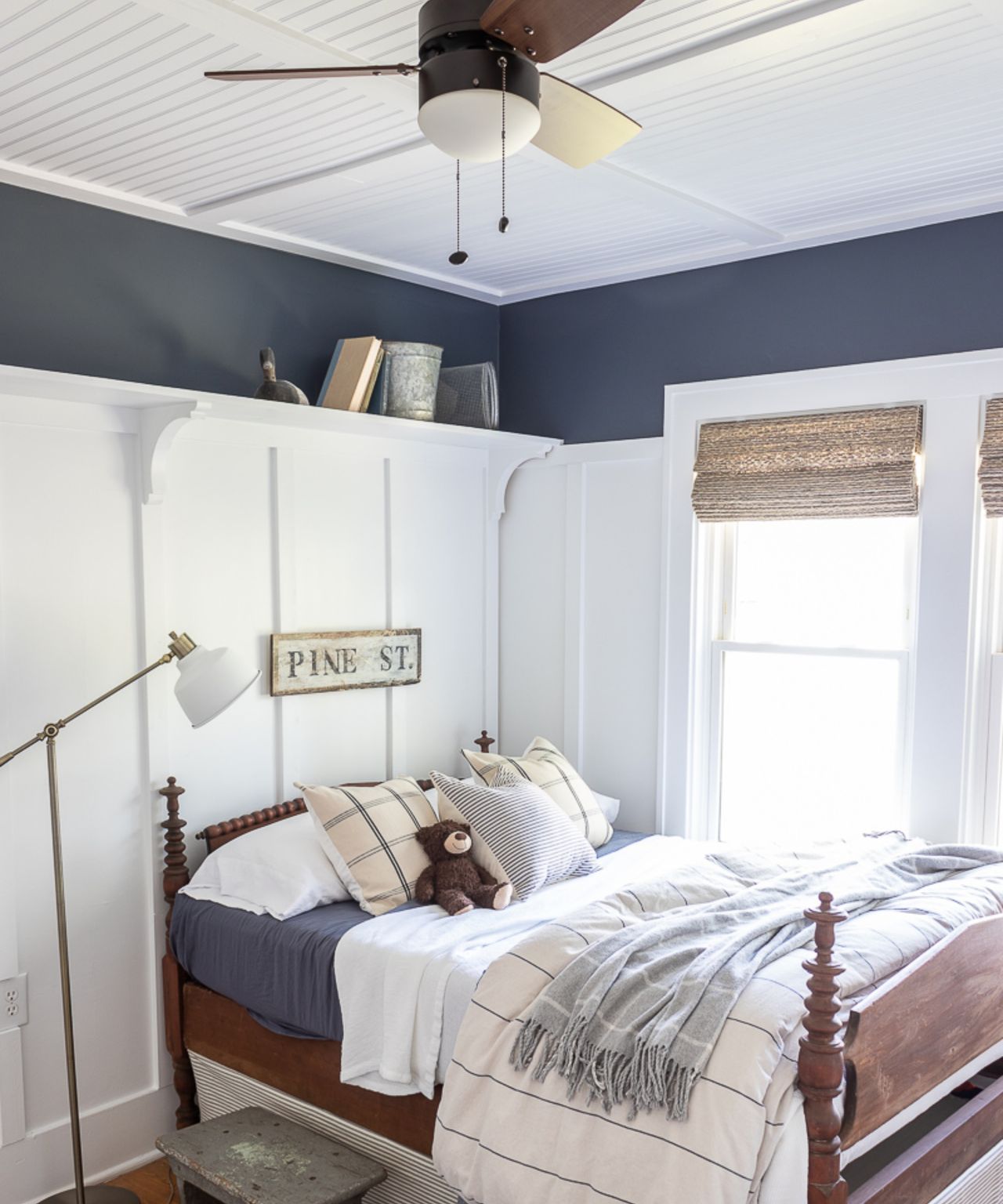 Any type of wood paneling is a great idea to achieve the much sought after chic nautical aesthetic. However, the paneling has that simple, clean look that offers a simple solution to boring bedroom ceilings. Juxtaposing a rich navy blue with bright white paneling is a great way to give a room maritime charm. We love how Pine and Prospect House have adopted this theme throughout the room with dark wood furniture, white and navy bedding, and freshly painted white woodwork. This combination ensures brightness without compromising comfort – perfect for those looking for a beach house interior to decorate.
2. Pair stone walls with rustic wood plank ceilings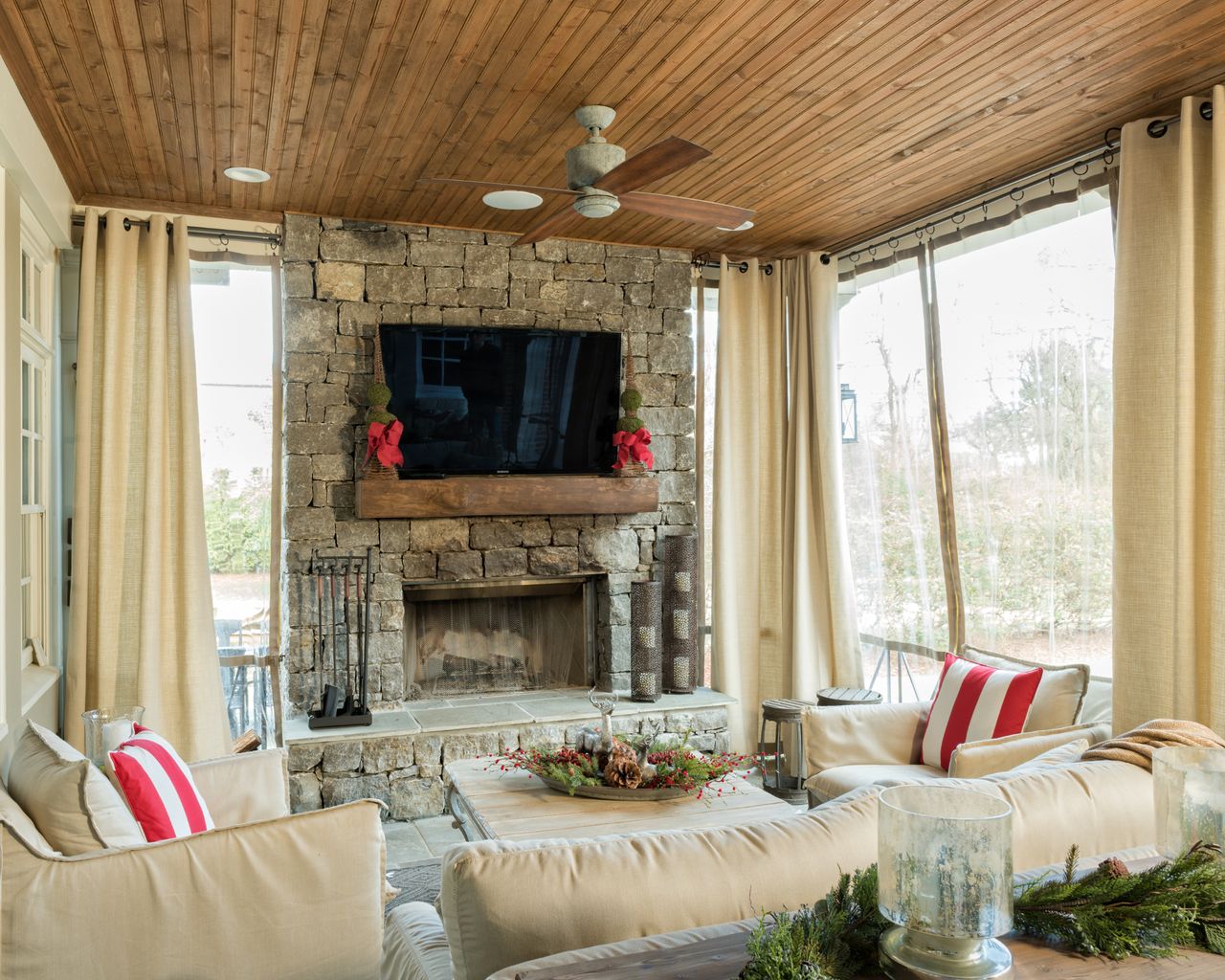 We love the cozy, cabin-style retreat feel that can be created using natural wood ceilings. Using simple pine wood planks on the ceiling and oversized gray stone on the walls, The Porch Company has cultivated a warm cottage-style charm in this home. If your style is traditional and rustic, wood paneled ceilings are a fantastic way to provide natural, warm character. We love the idea of ​​installing wood paneling in a soulless family room or playroom.
3. Add an accent bead panel to your attic hatch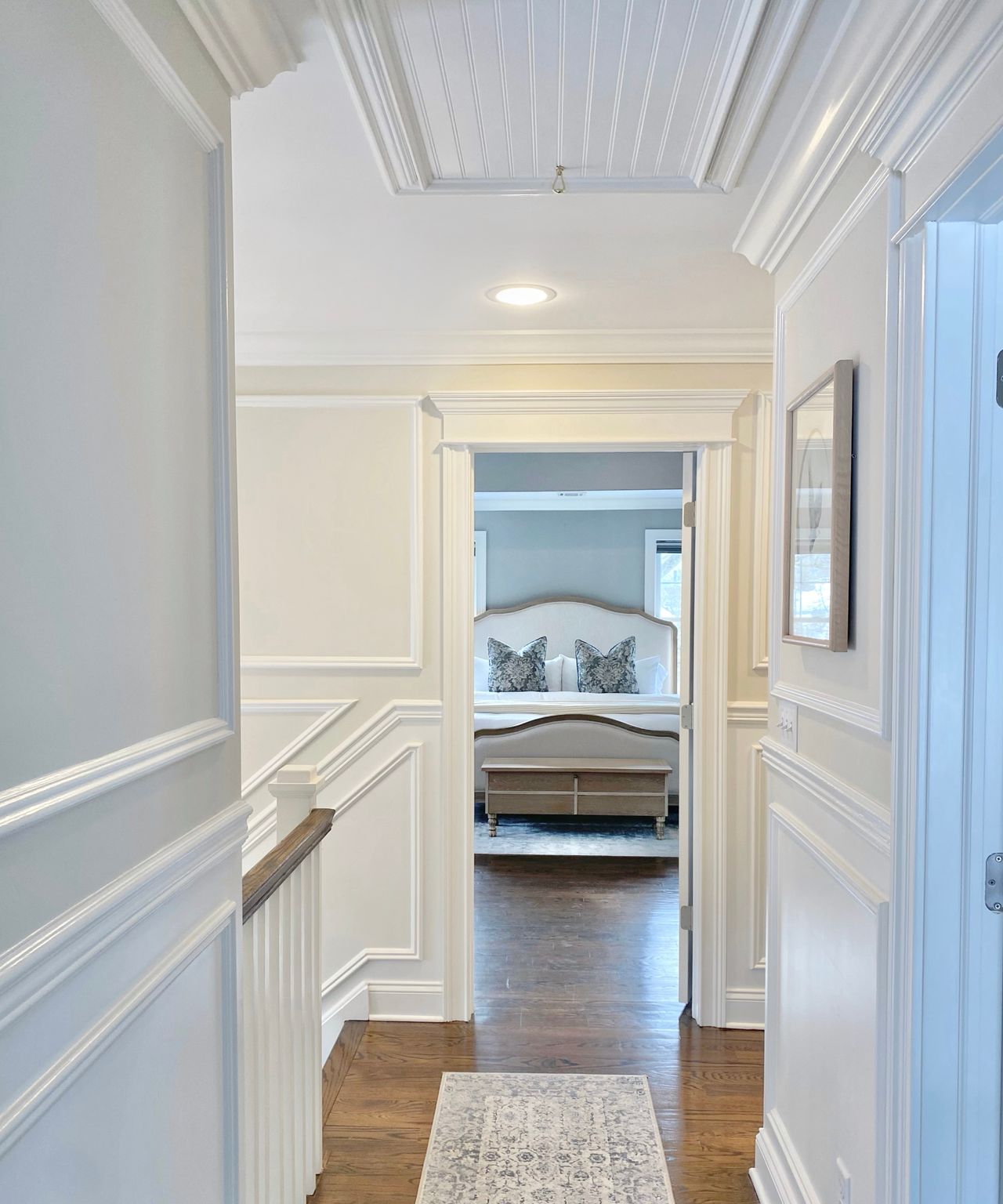 Want a wooden plank overhead, but don't want to commit to covering the entire ceiling? Simply cut your slatted board and glue it to your attic hatch. Not only does this tip add depth by drawing attention to detail, but it also provides elegant intrigue to an otherwise neutral space. Bead panels and other wall paneling techniques are a great way to introduce texture into interiors that champion minimalist color palettes. We recommend mirroring the effect with a hallway rug on the wooden floors under the attic hatch like @herrhome did here.
4. Replicate blue skies with teal wainscot ceilings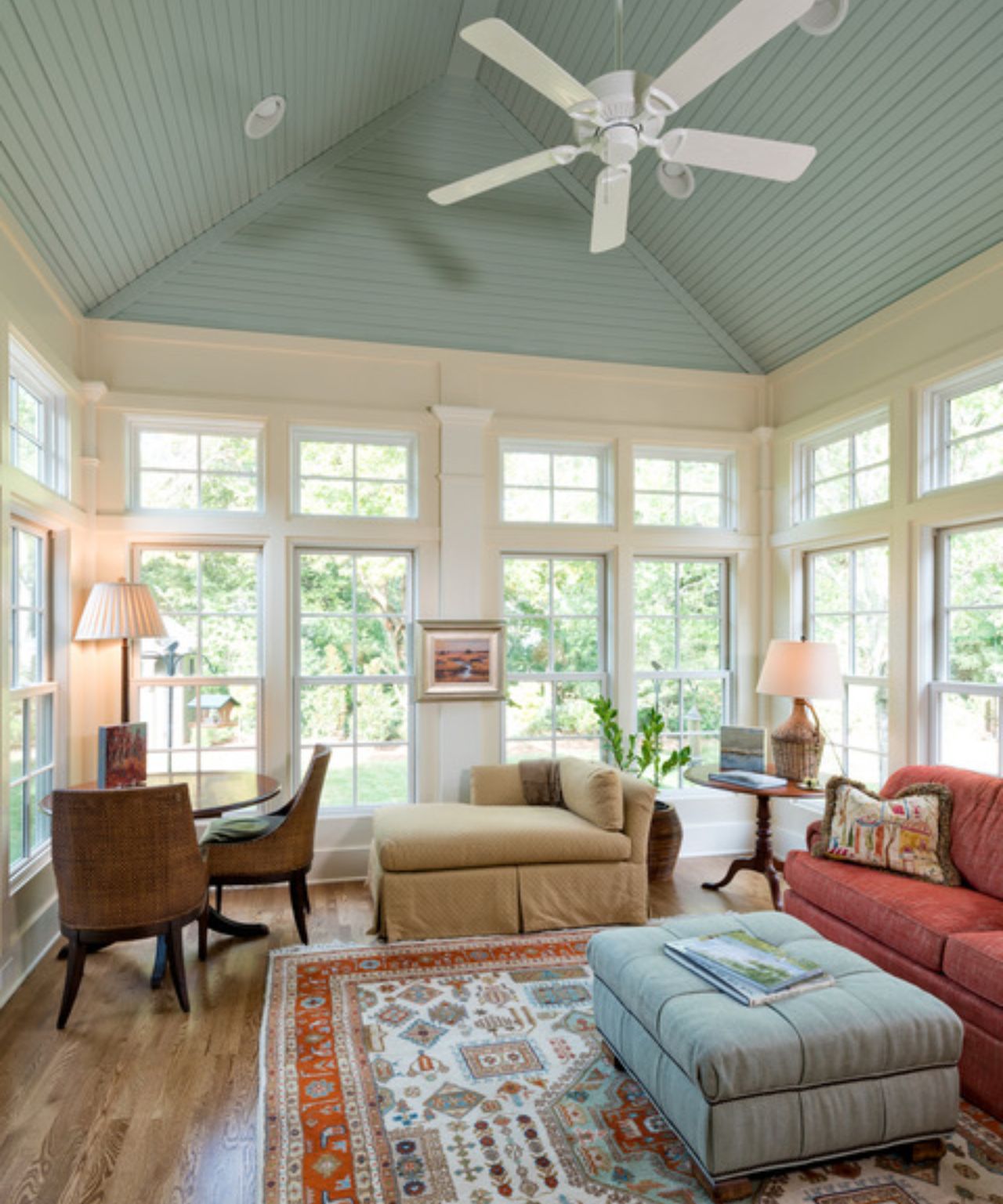 Colored paneled ceilings are the ultimate design statement, promising to draw the eye upwards and give a room vitality and character. Blue paneling is a particularly clever interior design trick, creating the illusion of blue skies and cultivating a sense of space. The best thing about blue? It's one of those colors that can lend itself to a bright, quirky color palette or an earthy, neutral look. We like this idea of The Porch Company which finds its balance by pairing muted blue paneled ceilings with a Moroccan terracotta rug (boutique Moroccan rugs on Wayfair for something similar).
5. Whitewashed Paneled Ceilings for a Beachy But Refined Living Room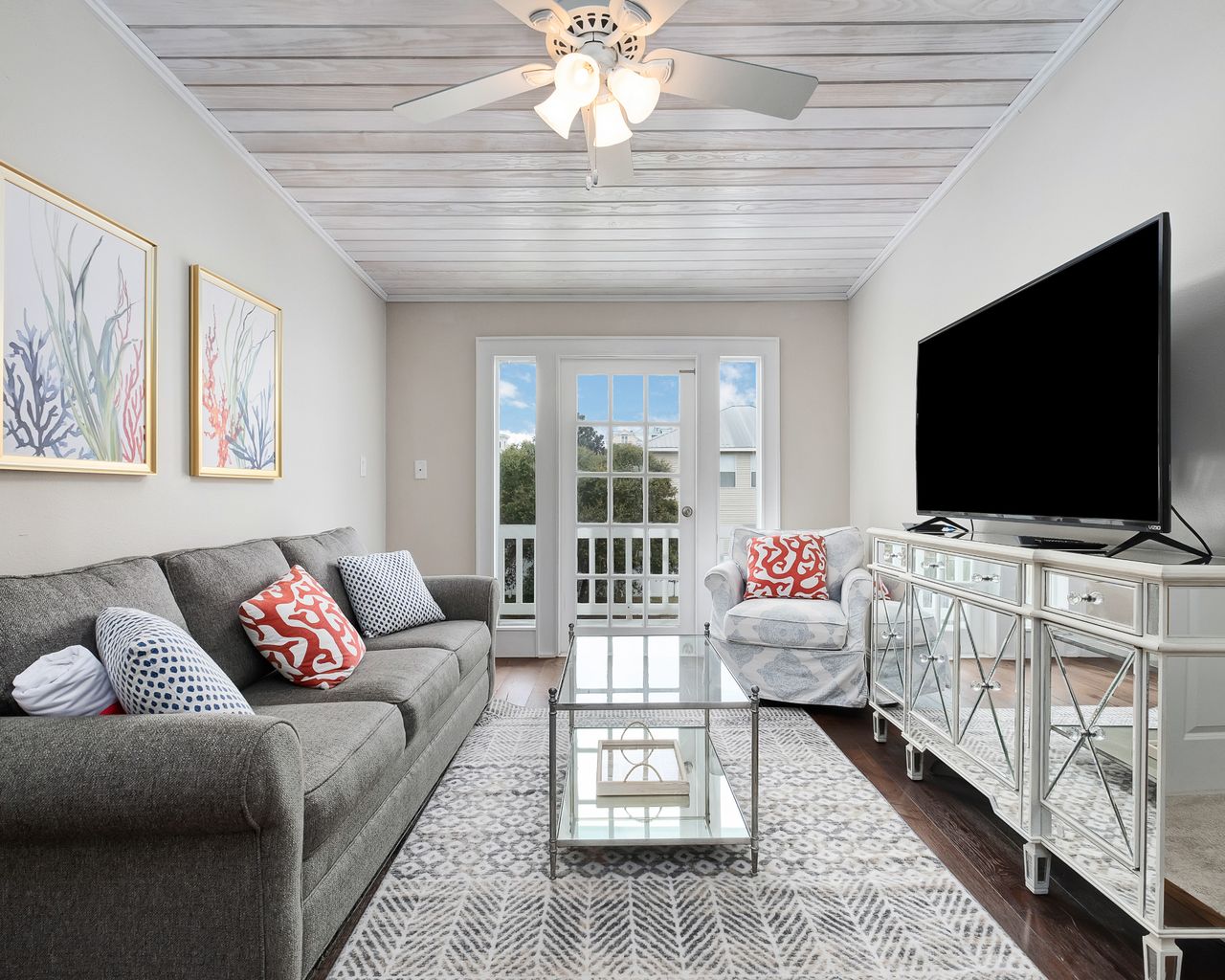 If you're dealing with a small room on a budget, wainscoted ceilings with soft whitewash paint will immediately give your space a relaxed, relaxed feel of coastal calm. From there, we suggest sticking to a cool color palette for a refreshing Scandi touch. The architectural details of the whitewashed paneled ceilings, combined with the light colors elsewhere, will create a sense of space and intentional simplicity.
6. Exposed Brick and White Wainscoting for a City Dweller Meets Country Aesthetic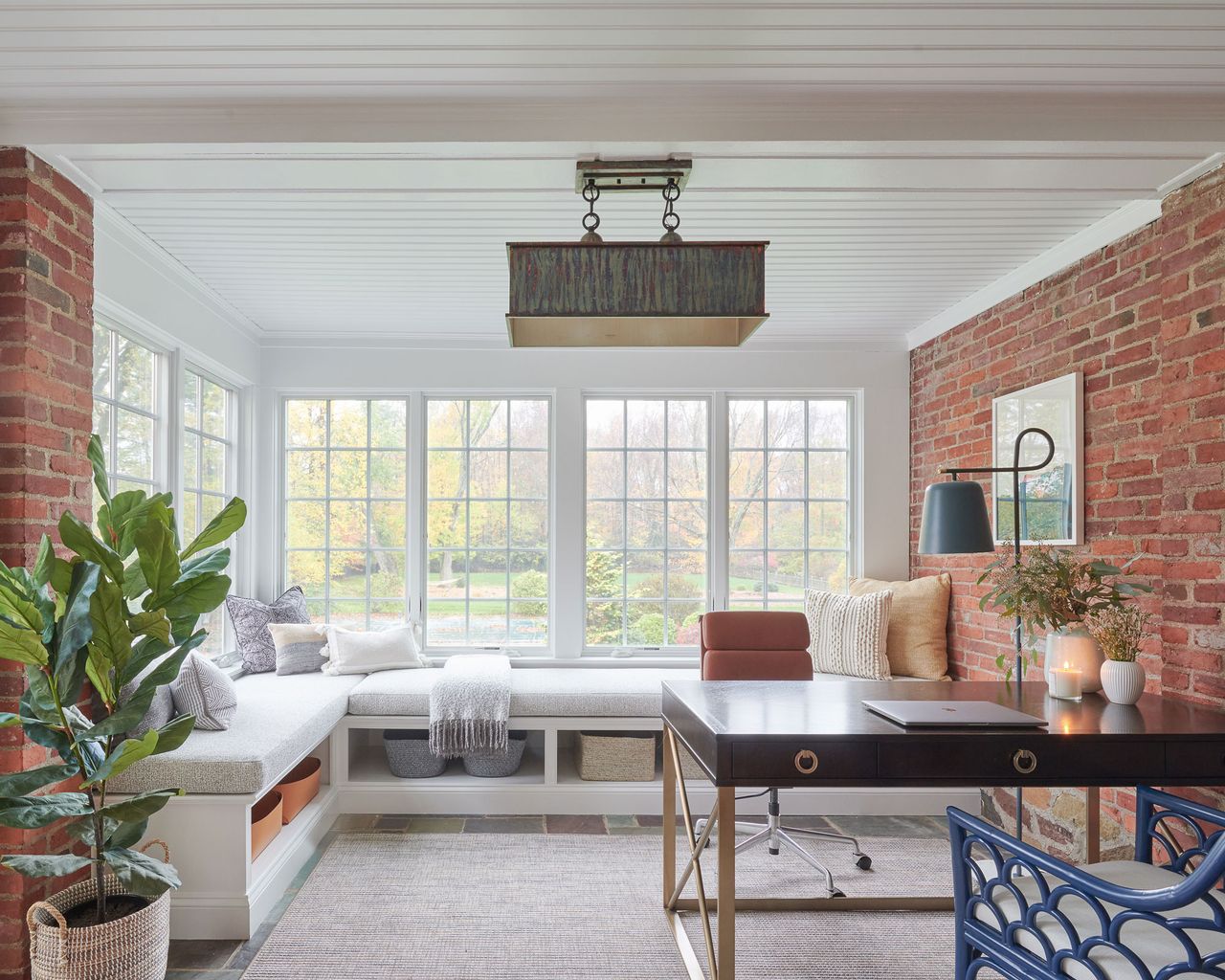 There's no denying that exposed brick is a trend that's here to stay. So why not give it a touch of elegance with white paneled ceilings? The way the red brick contrasts with the white paneling gives a fresh yet natural look to this project in Georgia Zikas Designm This refined design trick respects the structure of a room and allows you to play with the furniture and accessories to dress it to your taste. Add an industrial pendant light, as well as indoor foliage for a lofty urban look. Finally, add terracotta and off-white upholstery to soften the look while maintaining the earthy, neutral color palette.
7. A contemporary kitchen with golden accents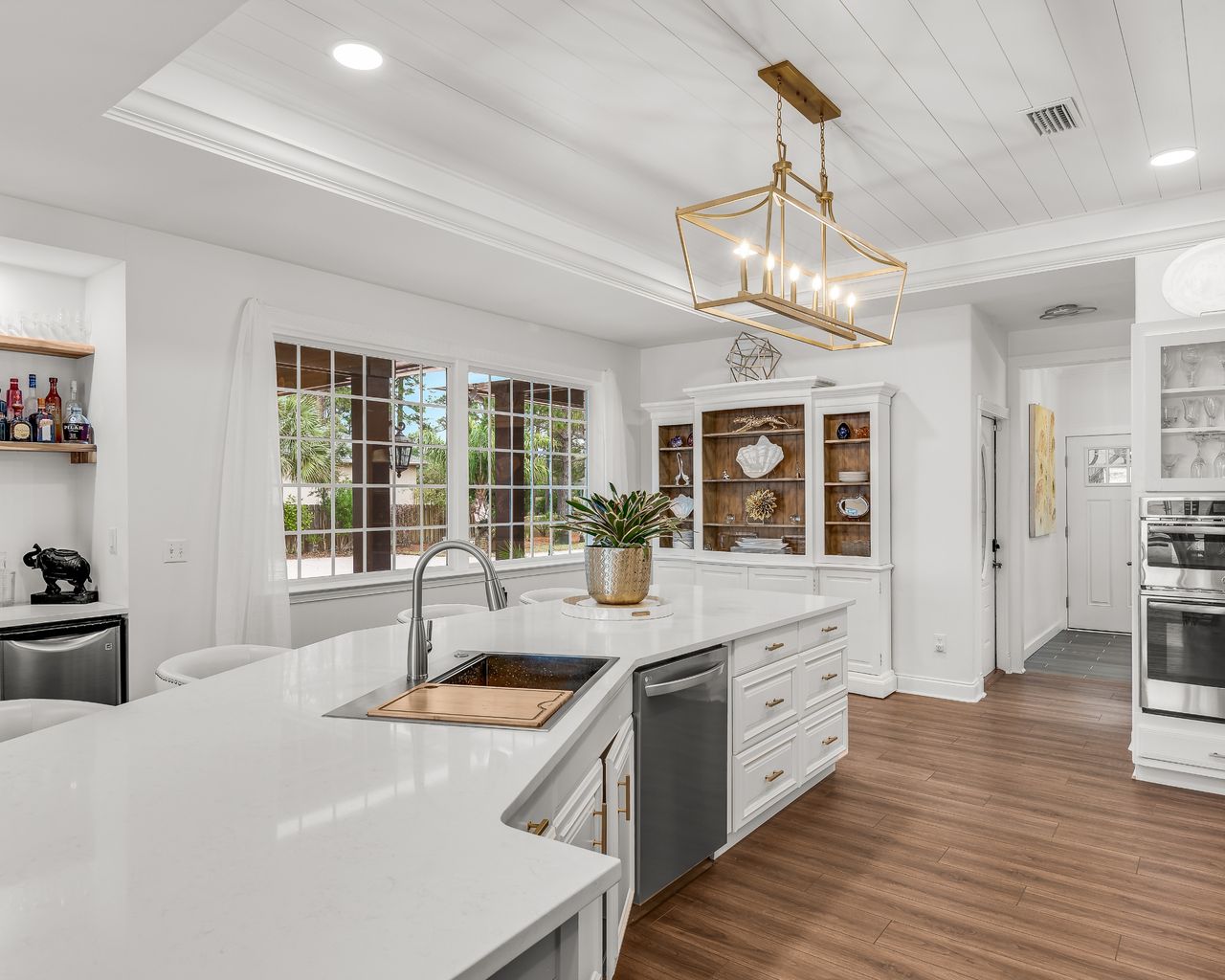 While we love paneling for the coastal, country and rustic charm it can bring to our interiors, we also love adding paneled ceilings as an accent in more contemporary spaces. This kitchen shows how you can combine materials to add space, texture and depth. White marble kitchen tops, a metal cage pendant light, wooden floors and a wainscot ceiling accent? Who knew you could bring so much character to a functional space without indulging in prints and colorful paint? (We beadboard advocates have done it!)
Are paneled ceilings expensive?
Marina Vaamonde, real estate investor in Texas and founder of WarehouseCashshed some light on the cost of paneled ceilings and his summary was that "paneled ceilings don't have to be expensive".
"Typical material and labor cost is between $4.00 and $7.00 per square foot. The cost can increase significantly if you use more expensive wood panels. Some cost up to $40.00 per square foot. Labor costs may also increase if you have an oddly shaped asymmetrical ceiling or a lot of ceiling fixtures to work around."
How do you attach the wooden board to the ceiling?
According to Marina Vaamonde, there are several ways to install paneled ceilings.
"Pre-engineered systems are available using non-wood materials that can be installed by do-it-yourselfers, greatly reducing your costs.
Thicker, heavier wood panels will need to be nailed into the ceiling joists. Thinner panels can be glued to the ceiling with adhesive (such as Amazon Gorilla Glue Heavy Duty Build Adhesive). You will still need to use finishing nails to hold these panels in place while the adhesive sets.
The previously mentioned paneling systems come with clips that attach to the ceiling. The paneling is slid into the clips creating a "floating" ceiling.
Measure the space and draw up a design plan:
Divide the room into sections, taking into account any parts of the room that need special attention. For example, if you have a light fixture, try to circumvent this problem.
Choose your beadboard:
Depending on what kind of effect you are looking for, you can choose the size and material of the bead panel that suits you. You can opt for pine, MDF, or any other wood that matches your desired aesthetic. Pine yellows over time even when coated in white paint, so that's something to keep in mind if you're happy to spend a little more on it being low maintenance down the line. .
Cut your paneling:
Mark a line on your bead board, then cut each panel into shape. You can do this as you go because each room will be different if your ceiling is irregularly shaped.
Installation:
Start by creating the perimeters with larger wooden panels. From here you can add the inner grid pieces. This is where the pre-primed pearl panel comes in. You can get it anywhere – The reception deposit is the easiest!
Nail:
Using a nail gun, hold your panels in place and nail your wainscot panels to the joists.
The final touch:
You can simply add caulking to any gaps to enhance the look and make it look professional and polished. Then prime, paint and enjoy.
Which way should paneled ceilings work?
Taking into account the advice given to us by a number of experts, we have come to the conclusion that the direction of the paneled ceilings really depends on your taste! On a practical level, it is ideal for nailing your paneling to the joists. However, beyond that is up to you.
Krista Walton, Communications Manager at Armstrong ceilings recommends "You can install beadboard ceiling panels in the same direction as your floorboards for visual continuity. If you have ceiling beams, place the panels perpendicular to the beams for an interesting touch."