March Studios proposal for the Outback Museum of Australia was unanimously chosen as the winner of a design competition to create a tourist destination in a remote town in South West Queensland.
The winning program aims to "capture the heart and soul of the backcountry". Five circular pavilions, crafted from red adobe will house a variety of gallery spaces, ranging from 95 to 145 square meters. Three additional pavilions will house ticketing and information services, restrooms, a gift shop and a snack bar.
The pavilions will be arranged around a central indigenous garden which, in turn, will have a central circular gathering area for smoking ceremonies. A wide-span Aramax roof will hover above the pavilions, unifying and shading the entire facility. The roof will also act as a water harvesting device during rain events, channeling rainwater to watersheds around the native garden. The cascading effect it would create references the springs and gorges found throughout the hinterland.
The jury declared "the character, functionality and materials chosen [of this scheme] are seen as responding to the program's call for an exemplary building, with an innovative yet simple and agile design that will stand the test of time.
"The homogeneous and organic forms, the honesty of the selection of materials and details in addition to the obvious physical links with the surrounding landscape, guarantee the human scale and the accessibility of the built form. The proposed exhibition spaces are considered along with the development, to present a unique curatorial opportunity.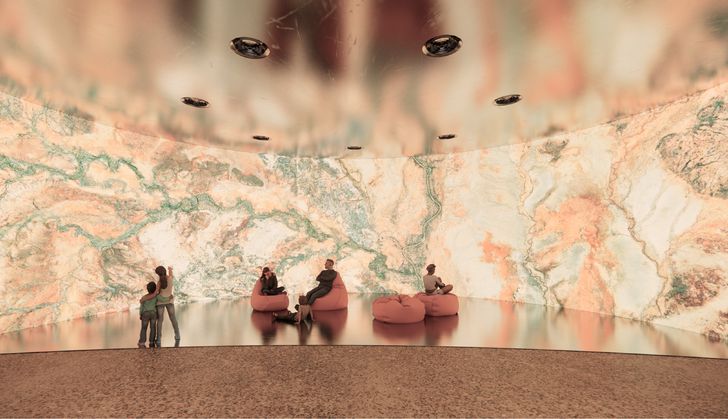 The jury awarded second place to a project by Hassell which it described as "a suitable and feasible proposal [that would create]memorable visit experience. However, "concerns have also been raised about the extensive use of unshaded concrete". Third place was awarded to Adhaeream for its winding ground plan of converging paths that contrast with an expressive central vertical landmark that accommodates elevated exhibits and viewing opportunities. But the jury feared it would impact "the museum's functional agility".
The Outback Museum of Australia was first proposed in 2021, with a master plan produced by academic Karine Dupre of Griffith University, in collaboration with architecture students Majed Abuseif, Ting Ren, Miyuki Suzuki and Sebastian Smith.
The project is a collaboration between Griffith University and the Murweh Shire Council. The museum will be built in what is now Top Secret Tourism Precincton in Charlesville, the site of a clandestine air base where nearly 4,000 American soldiers were stationed during World War II.