Three indigenous textiles Artists from the Northern Territory have teamed up with furniture and product designers from South Australia to produce a series of chairs that offer a new way to engage with Indigenous material culture and storytelling.
Presented at the Jam Factory in Adelaide from October 9 to November 28, Rekkan / Tamuwu / Nyinakati: Sit down / Sit down The exhibition features contemporary furniture covered with textiles designed by the artists. But it's not just about draping textiles over existing furniture shapes; instead, an iterative design process saw symbolic textile designs shaping and informing the structure of the chairs, complementing and continuing the artists' traditional stories.
One of the couples is textile artist Ndjébbana-Kuninjku Raylene Bonson from Bábbarra Women's Center in Maningrida with Daniel To and Emma Aiston from design studio Daniel Emma. Bonson specializes in the linocut printing technique and is known for her designs depicting ancestral stories and ceremonial objects, particularly the lorrkkon (hollow log for funeral ceremony), the kunmadj (dillybag) and the mandjabu (conical hatch). She was mentored by her late mother, Nancy Gununwanga, senior textile artist at Bábbarra Designs and founding member of the Bábbarra Women's Center. Bonson's silkscreened wubbunj (paper canoe / makassan boat) the design of the fabric was inspired by the story of his partner's father, who traveled with other men from Nakalarramba across the river to Djomi and, after finding l freshwater, settled on the land that became Maningrida. Inspired by and keen to reflect life in and around Maningrida, Emma Aiston and Daniel To designed foldable utility loveseats that celebrate "the transportable nature of wubbunj and the thought that it is something that can be moved and used with relative ease.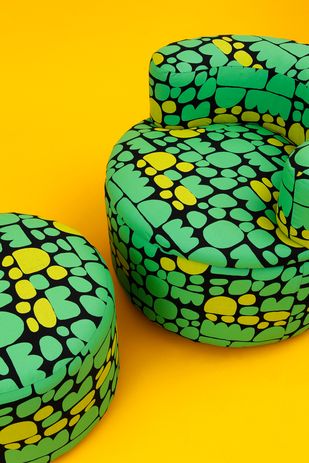 Another creative pair is artist Luritja-Pintupi Keturah Nangala Zimran from Ikuntji Artists at Haasts Bluff and designer Caren Elliss. Nangala Zimran creates bold, solid and bright textile patterns and the fabric she selected for this project features contrasting colors that represent hills of sand and puli puli (rocks) in the landscape. In designing the shape of the armchair, Elliss was drawn to the bold, strong and luminous graphic nature of textile design. Resonating with the intergenerational stories of Ketura, her mother and grandmother, Elliss responded to the fabric by focusing on the curves, especially those found in the movement of the wind in the sand hills and the shape of the rocks in the countryside. The circular shape of the chair and footrest encloses the seated person in a way that suggests being enveloped by Country /. "I wanted the furniture to act as a visual anchor, a form of rock on which to wrap Ketura's work and story, providing a 3D interpretation and continuity of the visual cues and movement found in Ketura's work," explains Elliss.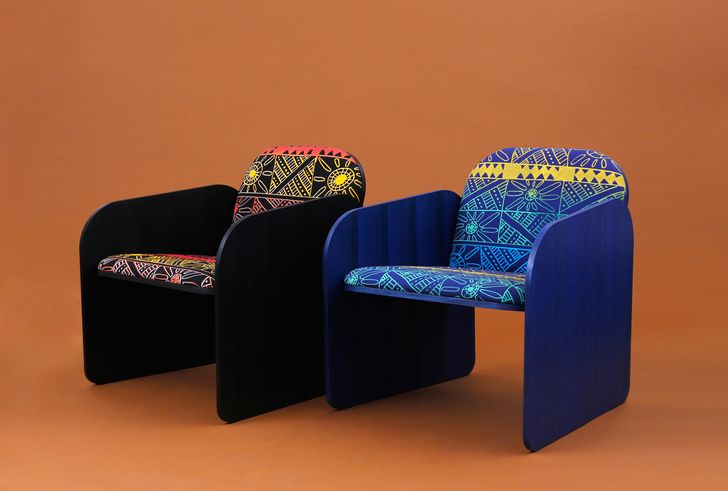 Finally, Roslyn Orsto of Tiwi Designs in Wurrumiyanga has teamed up with furniture and lighting designer Dean Toepfer. Orsto is known for her ocher paintings on canvas and paper that she creates using the wooden comb technique. Her punarika The textile (water lily) design celebrates the presence of water lilies in the ponds of the lakes, rivers and streams of its homeland, as well as the essential role that plants play in its community as bush medicine and food sources. Toepfer has created two chairs with minimalist aesthetics that represent the Tiwi tradition relating to the use and stories of punarika. "The first chair represents the calm and nourishing lakes and ponds where the water lilies provide medicine and food for the bush, while the second represents the fire that the elders and traditional owners create to calm the rainbow snake. who gets up if the water lilies are taken without his permission, "he says. "The two chairs represent the balance and harmony that the traditional owners have achieved for millennia."