This lakeside home in Stone Lake, Wisconsin artfully blends rustic cabin style with fresher, contemporary design elements to create a practical open-plan living space perfect for hosting friends and family. The two opposing design ideas have been effectively brought together here, in one of the best houses in the world.
The owners of the special weekend home called on the design expertise of Bria Hammel Interiors, where Bria was thrilled to take on this unusual project. The clients wanted a rustic retreat, a place to relax and spend quality time with their family.
Bria quickly established the main challenges ahead of her. "This house not only had to be beautiful but extremely functional. Our clients often host family and friends in this lakeside home, so it had to be durable enough for little ones, pets and beyond," she explains.
However, in Bria's moodboard, it was equally important to "ensure elements of sophistication and fresh accents are brought in to pair with its overall rustic feel". And as Bria takes us on a guided tour of the cabin's key new looks, you'll see how successfully these contemporary ideas have been balanced with the cabin's classic styling, without compromising its all-important warm vibes.
Dining room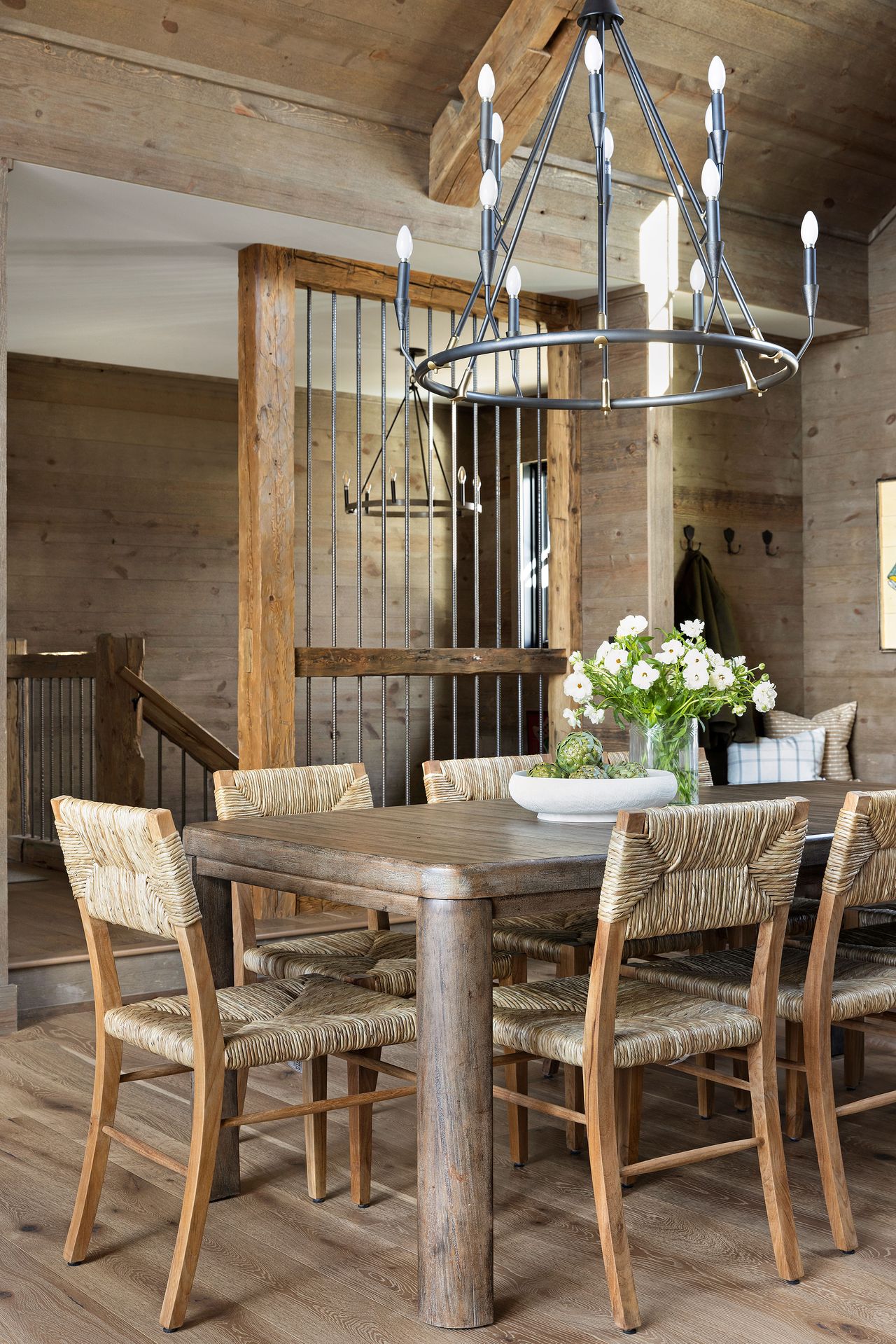 The client's main must-have was a large open floor plan to accommodate family and friends during their visit. So making sure there was enough seating in common gathering spaces and bedrooms for guests to stay comfortably was a priority.
In Bria's new layout, the kitchen, dining room and living room are all open concept, as she explains: "Because this space is so open, we had to be very careful about the different design selections for making sure one element doesn't overwhelm or overpower the other – like our lighting choices and the stone balance between the kitchen and living room.'
Dining room ideas of note include the dining table which perfectly bridges the gap between rustic wood and diner sophistication, paired with Whitaker chairs from Bria's own interiors brand, Brooke & Lou. The Sundance table is 1 stop. The clean-lined chandelier above the table also perfectly blends contemporary and cabin-style elements.
Kitchen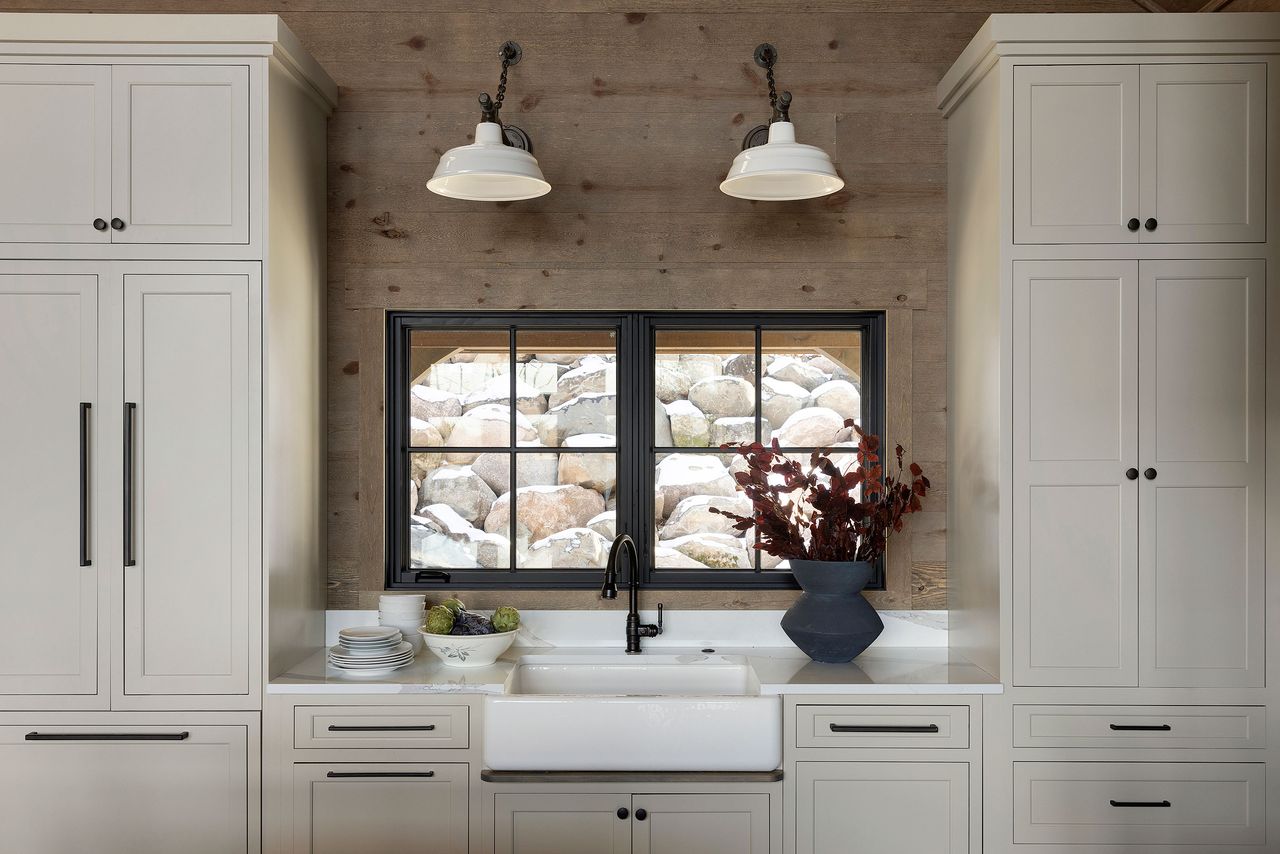 When catering for a crowd, the kitchen should be a well-organized space. Kitchen ideas here include lots of cabinets and drawers to keep things tidy and workspaces clear, but also lots of great looks. Key elements include the beautiful quartz backsplash and a striking stone hood over the stove.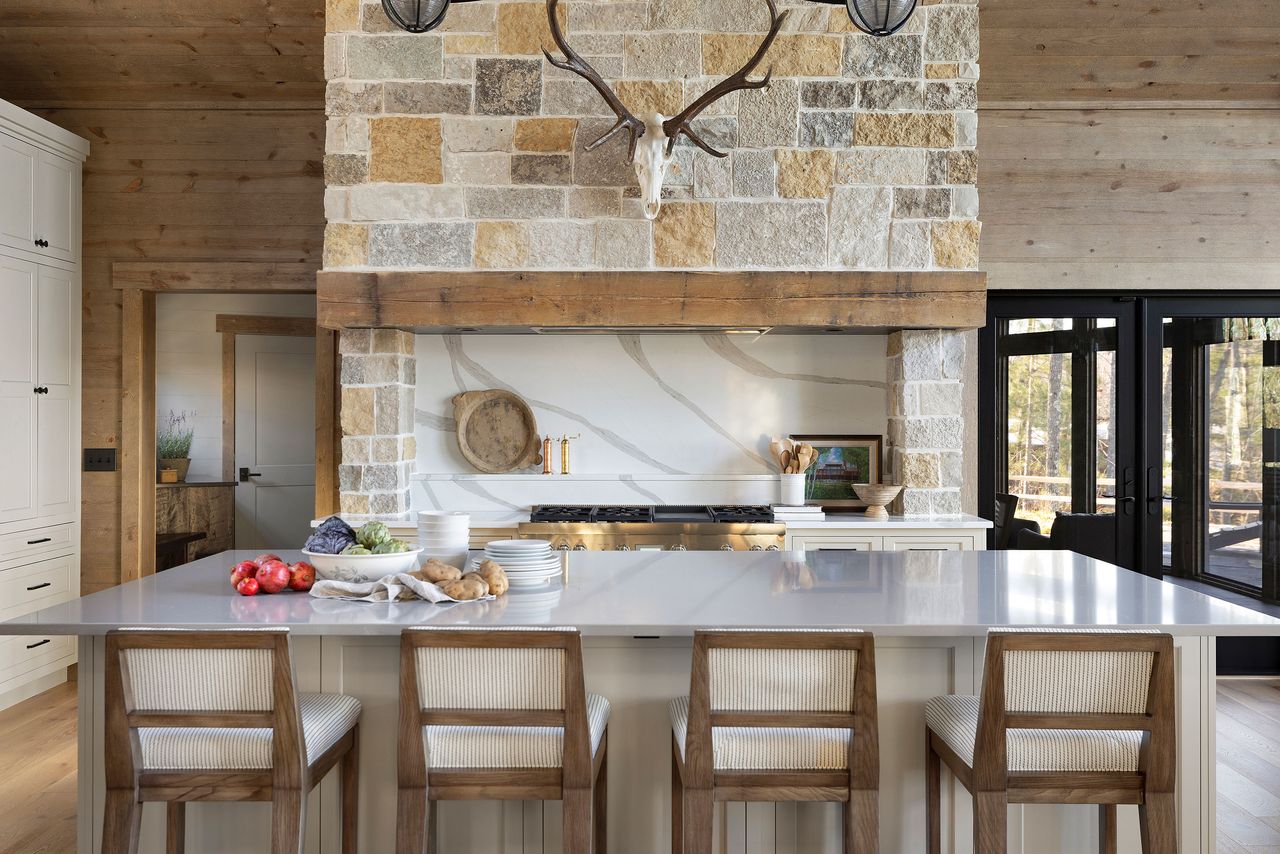 Bria describes the new kitchen as a "great space." His clients wanted a space where their family and friends could gather. "Knowing that the kitchen is usually the most popular gathering place in a home, we made sure it was filled with all the bells and whistles and great design details," says Bria.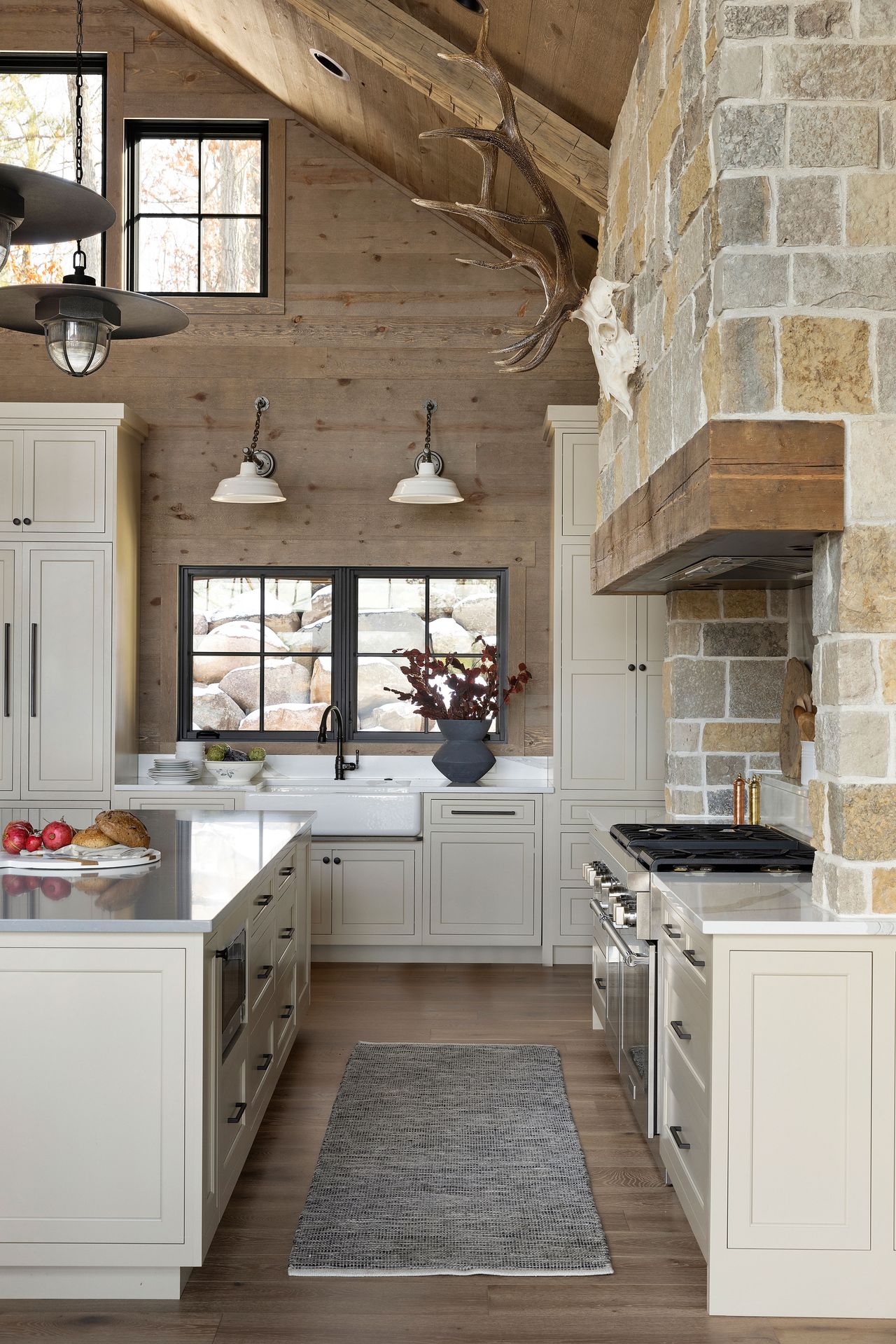 We love the two quirky roof-height windows well above the kitchen cabinets, as well as the more modern black-framed windows behind the butler sink. The cabinets are painted in Benjamin Moore Bleeker Beige.
Comfortable seating area in the cabin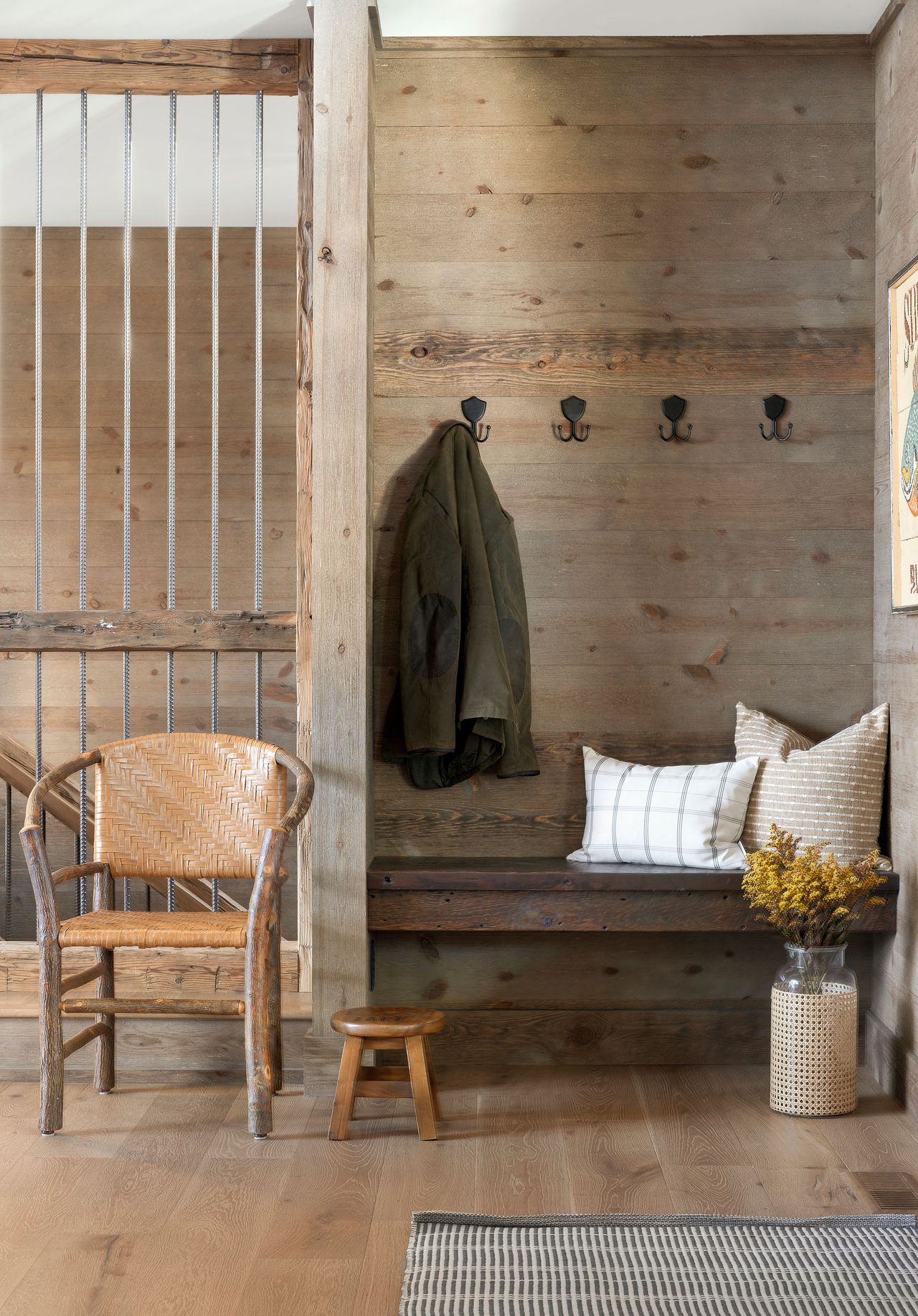 This cozy spot at one end of the dining room is typical of thoughtful touches throughout the house. As well as providing a handy storage space under the bench, it's extra space to sit or hang a coat after an invigorating morning walk. We love how it fully embraces the warm wood tones of classic cabin style, and what a place to showcase a treasured vintage chair and stool.
Living room with a view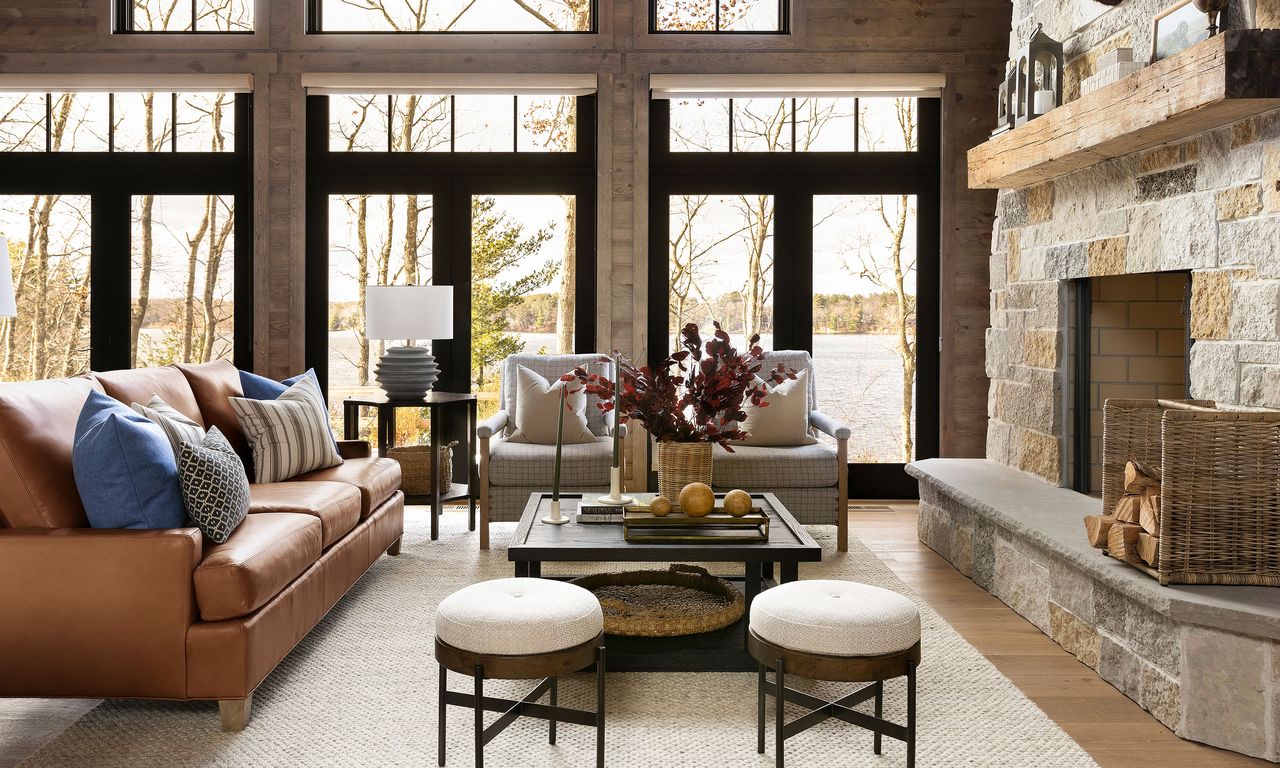 With their full-height bay windows overlooking the lake, the sofas are the best seats in the house here. This living space is in the open space that runs through the kitchen and dining room, and guests are naturally drawn to the stunning views, which look great all year round.
Living room ideas for this open space include layers of natural textures and fabrics that work well with the paneled walls. The fireplace surround mirrors the natural stone used in the kitchen, but here it adds an unusual curved silhouette to the hearth. This curved fireplace is one of designer Bria's favorite design elements in the project. "It's a subtle yet stunning detail that added interest to the space and broke up the linear lines," she says.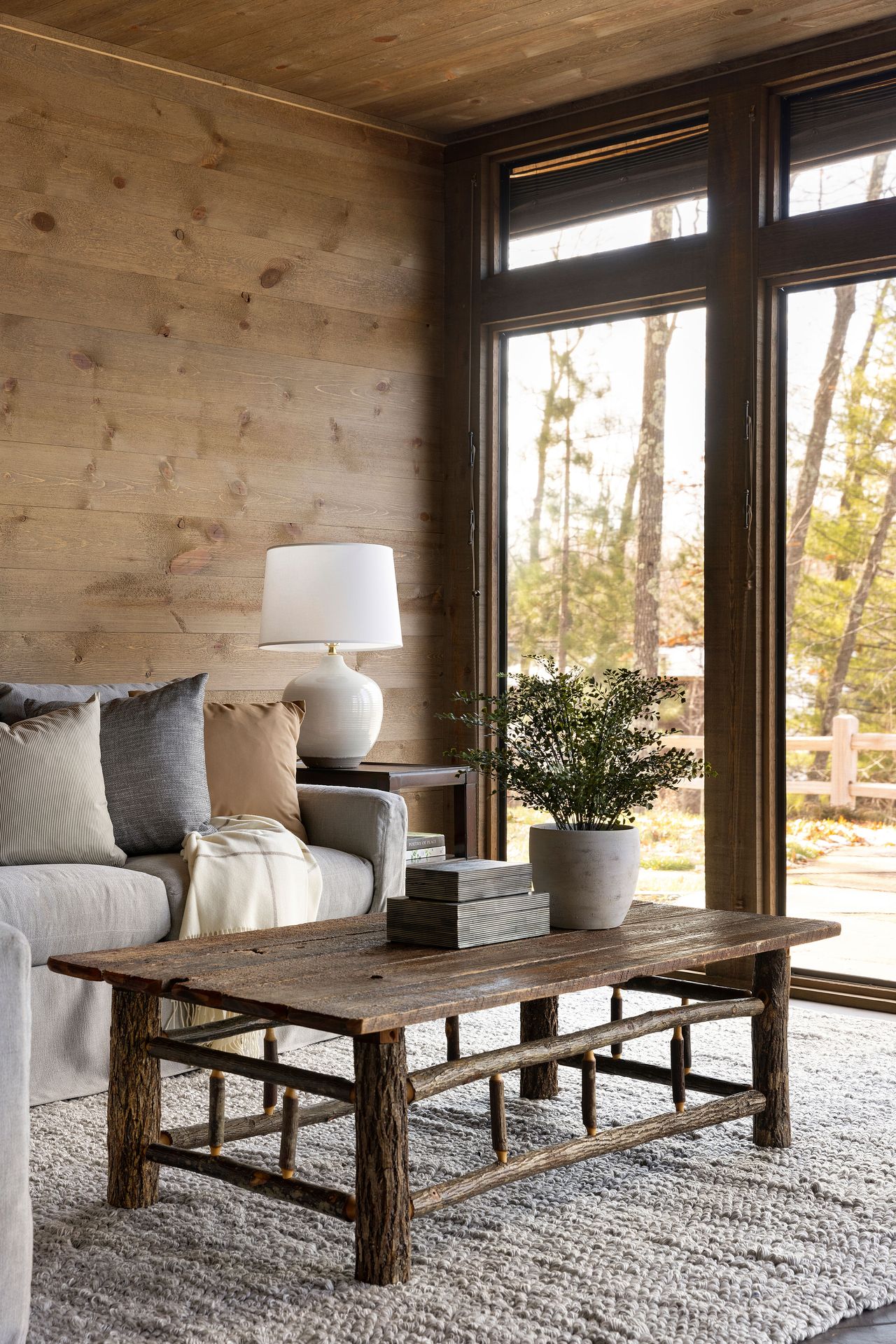 Entrance to the locker room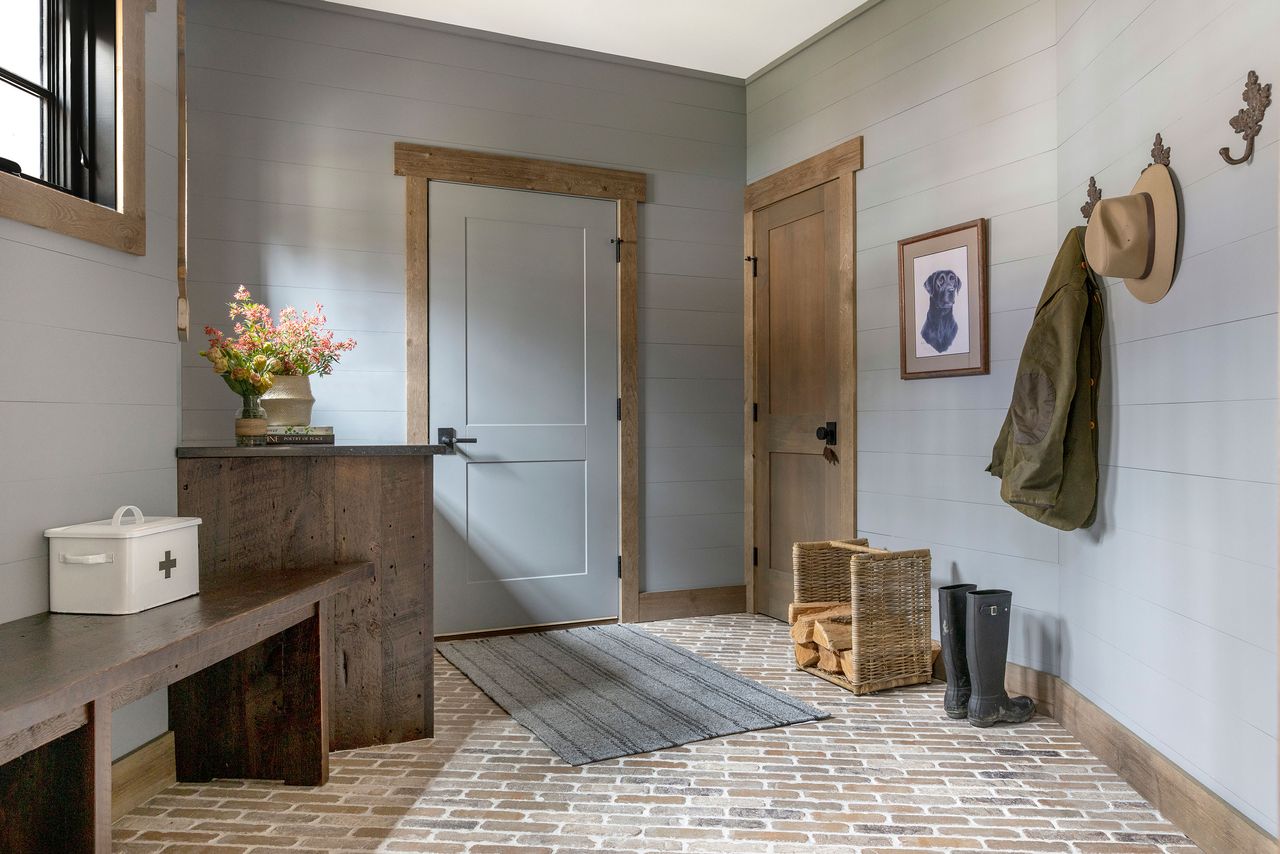 Bria couldn't resist incorporating a splash of her signature pale blue hue into the new space. Here in the dressing room, the woodwork is painted in Benjamin Moore's Timber Wolf. "We love how that beautiful blue paint color adds a fresh touch to the otherwise warm and cozy home. Plus, we can't forget to mention that brick floor – we love the charm it adds to the interior. space!" says Bria. "We agree and applaud the expert use of another earthy texture – natural brick – to balance wood elsewhere.
Classic sleeper cabin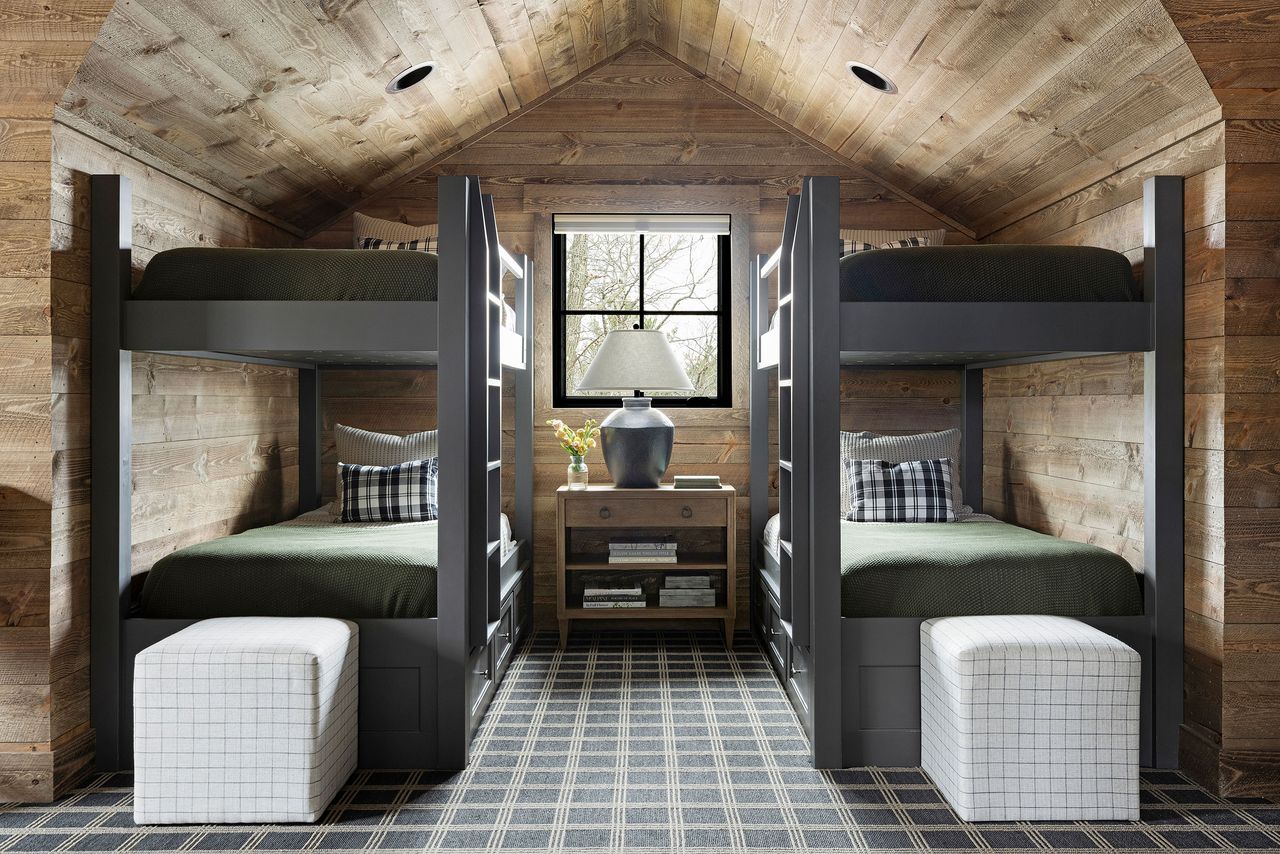 Believe it or not, this bunk room can accommodate up to 12 people! It was built above the garage, at a strategic distance from the rest of the accommodation – the client wanted a space for their children to spend time with their friends and not have to worry about being too noisy , explains Bria.
"The bunk beds are custom made, each with their own individual sockets, making charging electronics easily accessible," she adds. "Dark carpeting was also on the client's wish list for this space, so we attached this windowpane carpeting to give the room a bit more character while hiding wear and tear."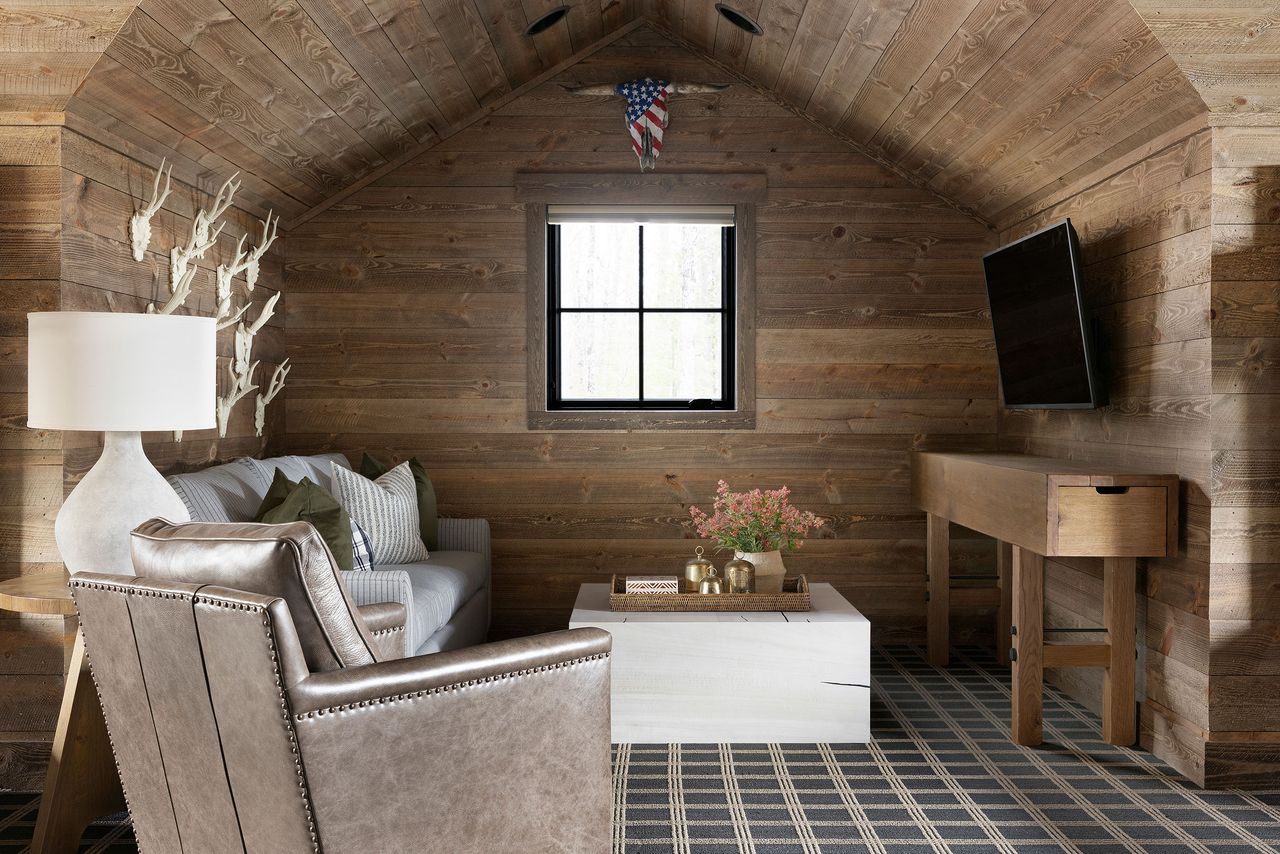 One of the alcoves in the dormitory has a comfortable seating area and a TV room.
Bedrooms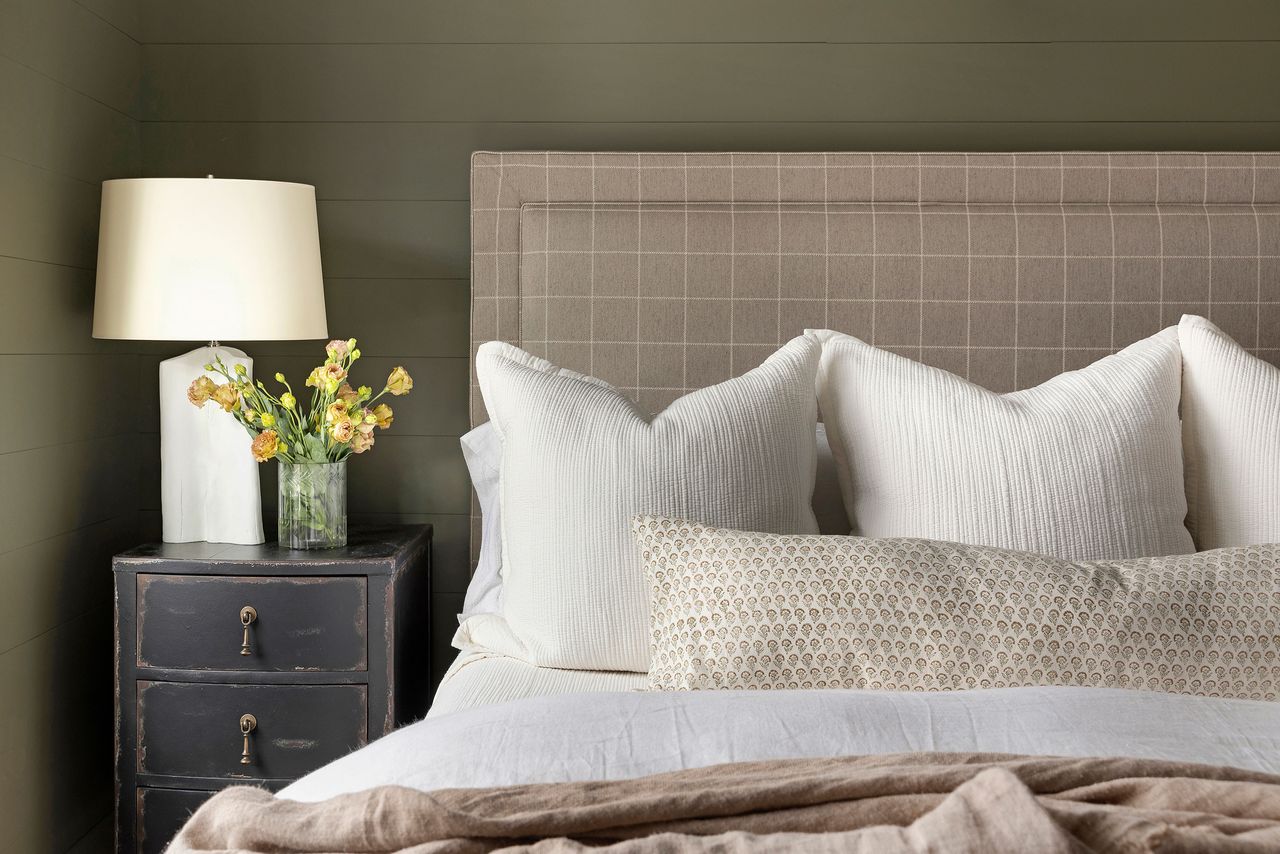 In the guest rooms, it was important to our customers that each room be a little different while remaining true to the warm and cozy feel of home.
Anyone looking for bedroom ideas could take inspiration from these two cozy bedroom sanctuaries (above and below). "We intentionally chose the textiles we mixed in the rooms to make them soft and accessible for guests, creating spaces people want to hang out in rather than feel heavy and dark," says Bria. "We also opted for accent lighting, such as wall mounted sconces, which allow for more space on the bedside tables."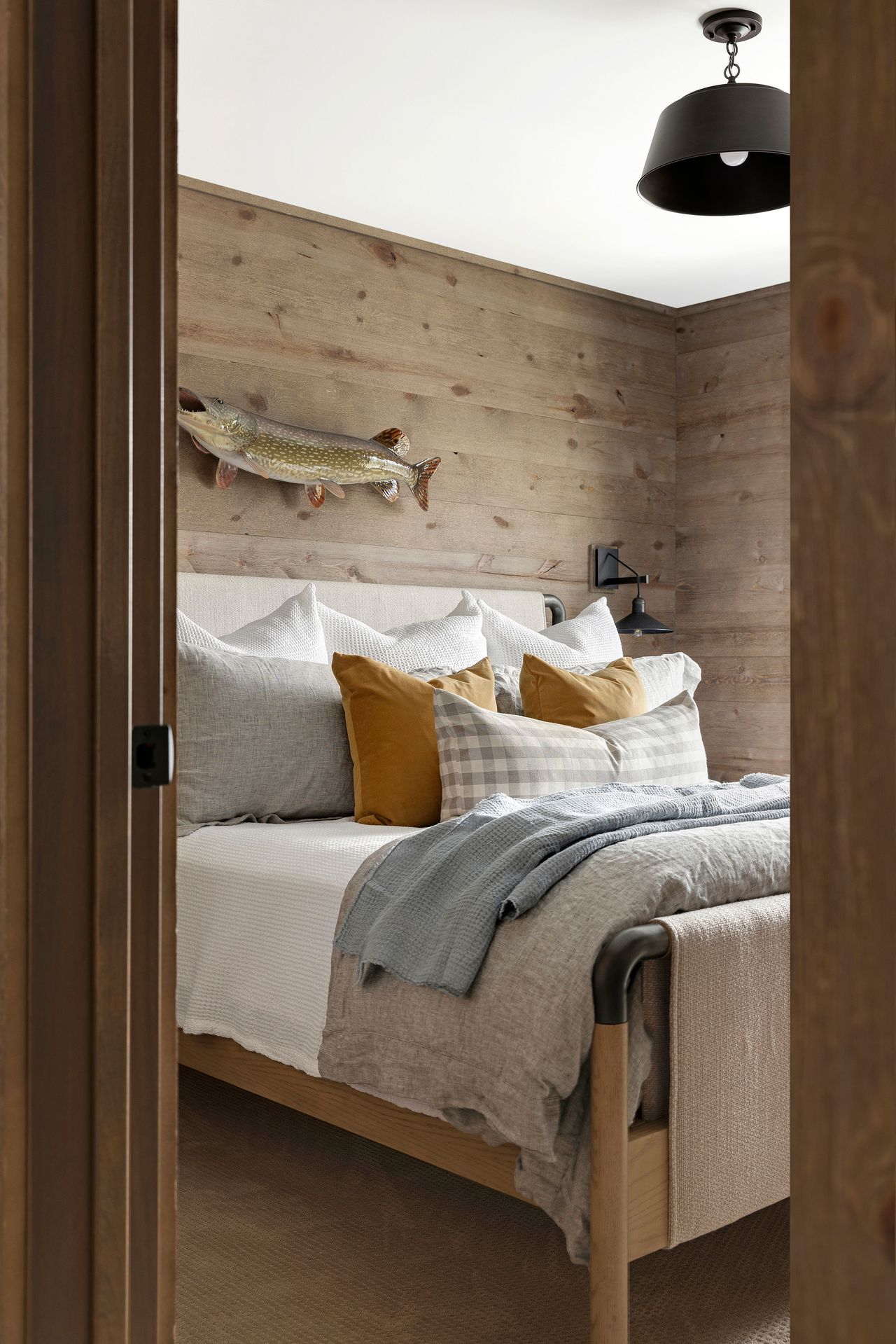 The unusual bed frame covered in burlap is the Harriet bed from Scout & Nimble.
Bathroom – cabin style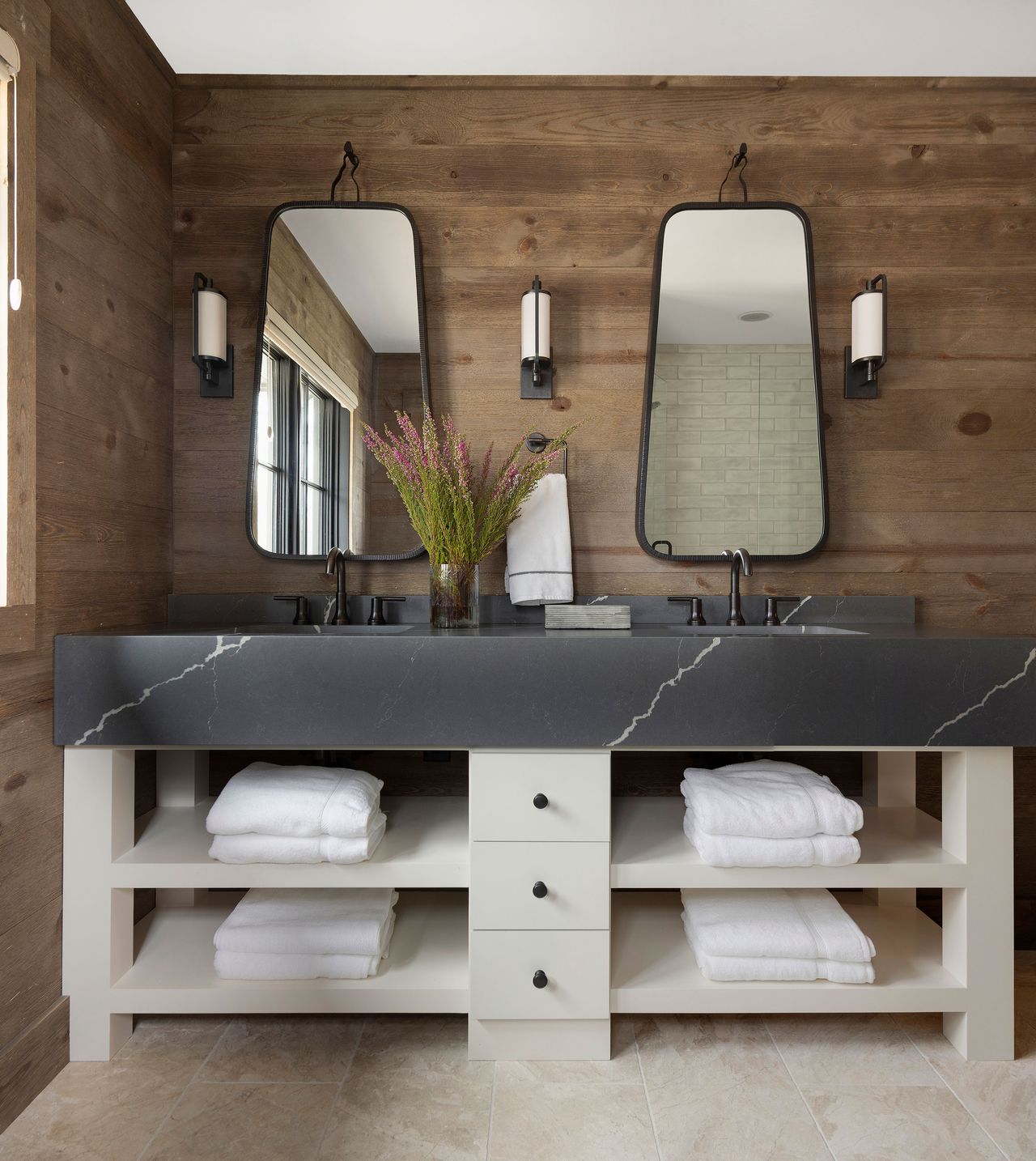 Bathroom ideas in the master bath are all about contrast, says Bria. "In this space, we strayed away from the subtle neutrals of the bedrooms and opted for a mix of light and dark by pairing black quartz countertops and bronze plumbing and lighting with a light vanity and attractive marble tiles. porcelain shower."
It's a treat and it's the perfect modern twist on cabin style – still using natural materials, but showcasing them in a fresher, cleaner way.
Exterior updates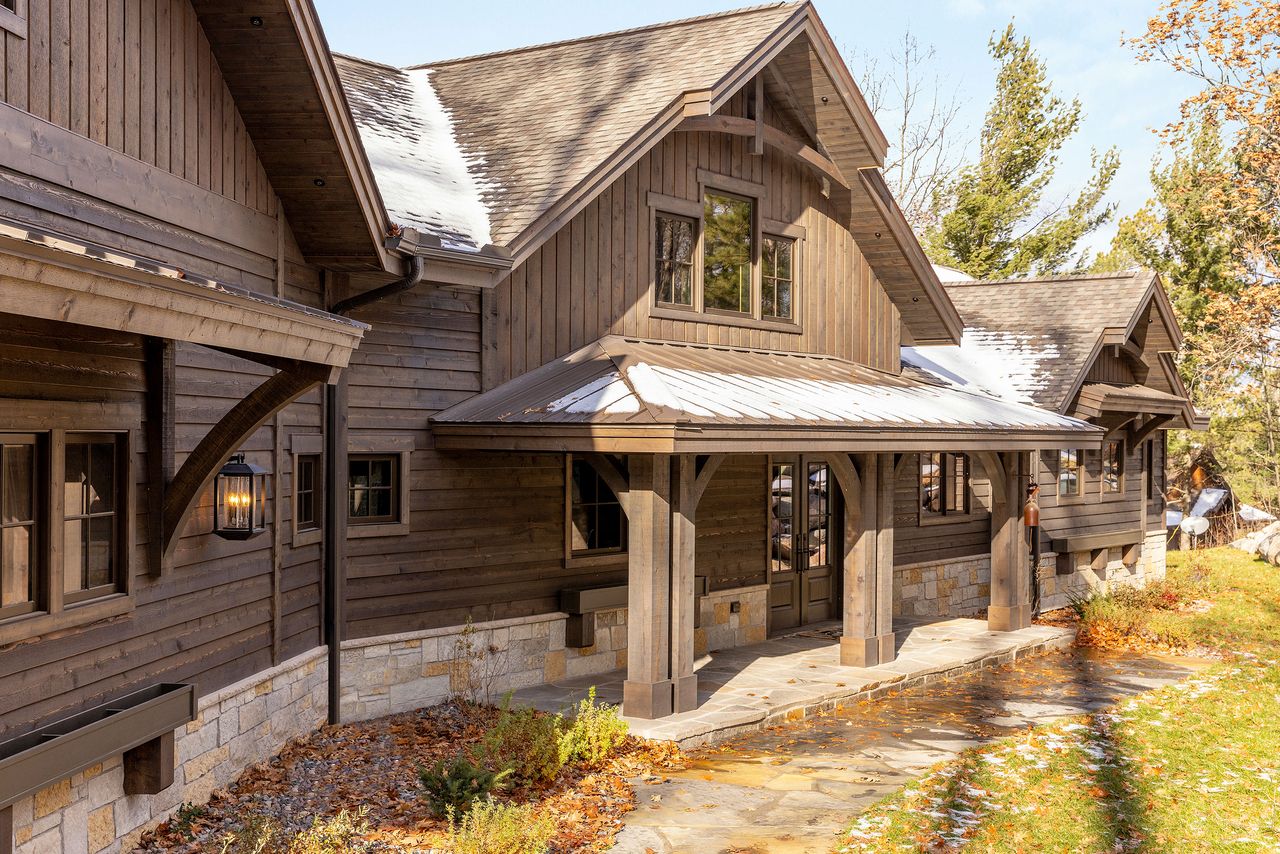 The cabin's exteriors have also been given a makeover, thanks to Bria's expert touch. "Staying true to the original roots of the house, we kept the exterior wood and gave it a modern facelift with a combination of vertical and horizontal planks, unique stones and arches framing the entrance," she says. .